These are the hard-working individuals that are the Flynn Accounting team. Each team member strives each day to do their best work for each client–not just for the client's accounting needs, but getting to know each client's plans and dreams so that the team can do what is best for you, the client. That's dedication. That's Flynn Accounting. WIthout a doubt, the best in the business.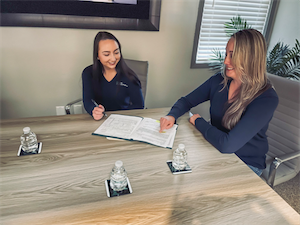 The core of our business is to help business owners from the bookkeeping level all the way to the end result of tax return preparation. We are energetic, knowledgeable and take pride in our work and our company. Our desire is to come alongside your business and partner with you to assist you in your goals. Along the way, we hope to create a relationship that will withstand the test of time and economic turmoil.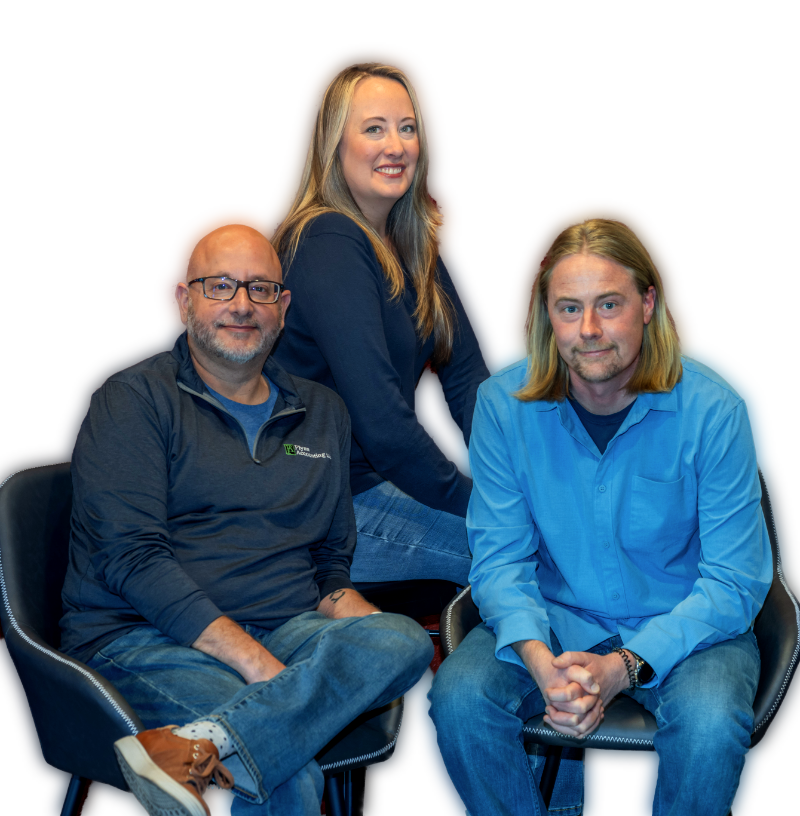 Current partners Brian Flynn, Esther Daniels, and Chris Glockson enjoy fostering and continuing relationships that have been developed with clients. They gain satisfaction being able to consult and plan with business owners and individuals to reach their dreams and goals. The business started in 1989 with the founder, Mike Flynn, having a simple dream of helping business owners become successful. He built the business and passed on his values and commitment to customer service that continue to live on through each partner and employee of Flynn Accounting today.
Why Our Clients Choose Us
All accountants work with numbers, a sea of spreadsheets showing expenses, income, and losses. We boil it down to a very matter-of-fact bottom line. Sounds simple, but here at Flynn Accounting, it's much more than columns of + and -. We view every client behind those numbers as a positive, with an individualized perspective. Whether you are a small business, or a military officer filing individual taxes, we thoughtfully work with every client individually. We offer a complete menu of services, from full-service bookkeeping and payroll to tax filing. YOU pick what YOU need. We build relationships that withstand the test of time because we don't just take care of numbers, we take care of people.
What Our Clients Say About Us
Terry – Bird and Wittenberg Dental

"Our Dental office, Bird & Wittenberg Dental, has been with Flynn Accounting since 2013 and we are so happy we switched from the large payroll company we were with previously.  When they say, "We don't just care of numbers..We take care of people", you can believe it!  The personal care we have received from Kari has been outstanding. Make the switch NOW!!!"

Anthony – The Contents Company

"My wife and I have started a business almost two years ago. There was much to take on in a short period of time, with both of us learning and growing as quickly as possible. Esther and her team at Flynn Accounting have been phenomenal in assisting, guiding, and advising our accounting-related needs in order to facilitate growth. Their wealth of knowledge and helpfulness made us very comfortable making normally uncomfortable decisions. We are very satisfied with all the services they offer!"

Mistia – Dragonfly Aerial Company

"I can not express properly the extent of what Flynn accounting has done for me personally and for my businesses.  Fortunate to have our business grow faster than I could manage administratively, employee payroll taxes become more complicated than we could imagine, and we were literally buried in 941 debt, personal back taxes and payroll primarily due to mis-management and lack of understanding.  I was absolutely overwhelmed and confused with paperwork on top of running the actual business itself. Esther Daniels was a game changer.  Not only did Esther bring order and strategy to our payroll, business, and personal taxes, she brought light of opportunities for grant funding, interceded with the IRS on backtax obligations and educated us so that we could make discerning choices on salaries, tuitions and absorbing new properties. I would have certainly lost my business, and my mind, if it was not for Esther Daniels and Flynn Accounting.  We have not only organized and implemented strategies for our current business but have since launched a non-profit and a real-estate investment company as well.  I would not trust anyone else with our accounting. Flynn accounting literally saved my business."

"Flynn Accounting has been great to work with. They've been very responsive when I call or email with questions, they always either pick up or get right back to me with an answer. I love that I can quickly and easily get to someone who knows my business to give me the advice I need without having to set an appointment for months in advance. They've definitely helped me understand my books better and made clear some things I've been struggling with in QuickBooks for years just by speaking English instead of "accountant". What I've really been impressed with more than anything though, is that when I started, they did their own discovery process going through my QuickBooks, and as they pieced the puzzle together, they came to me for the access they needed, including a few things I'd forgotten to tell them about and things even I didn't know about. It really gave me peace of mind that they had found these things on their own and were able to recognize the puzzle pieces I hadn't given them and took the initiative to find and incorporate them. Then they sat down with me once they had all the data and went through their findings with me. We talked about how my business was doing, decided how we were going to fix my expense categorization, advised me on setting up retirement accounts for my staff, and then set out a tax plan for the next year. In just the first quarter of working with them, they found a way to save me $8,500 on taxes this year alone, and even more in following years! I couldn't believe my previous accountant had been missing this! Overall, I think Flynn Accounting has provided a tremendous value to my business, both in tax savings and peace of mind. If you're still on the fence I'd say you should absolutely work with Flynn, you can't put a price on having an accountant that's actually looking out for you!"

Ryan – PB&J Heating and Air

"Flynn Accounting best decision I have made for my business. They keep me on track with payroll, taxes, and the new laws coming down the pipeline. Highly recommend the as they are knowledgable, friendly, and easy to get ahold of if needed. Top rate firm. "

"Jim and I would like to thank all of you at Flynn Accounting for your continued great customer service. You have an excellent staff and we appreciate the level of service you provide to us. We are always appreciative of update letters informing us of any changes to tax items that may have an effect on our returns. We also appreciate the personal contact that you provide us and the timely processing of our returns. We have recommended family and friends to you from your many years of service to us. Many thanks to you and your employees. Best regards."

Tom and Jane Cain – Colorado Health Services

"Flynn Accounting is the best "partner" we could have to ensure our success and our peace of mind. Our taxes are accurate and paid on time. Our receivables are properly billed and credited. Our payables are never delinquent and never over or underpaid. Our bank account is constantly monitored and comfortable balances are maintained. Our payroll is properly prepared and regulations adhered to. Flynn's highly efficient staff and management are always available for consultation on all relevant issues. Their response and input during the Covid crisis was most helpful in assisting us to thrive during a challenging time. We recommend Flynn Accounting at every opportunity. You will be delighted with their service and welcoming attitude."

"Taxes are hard and the IRS is unforgiving, so when I wanted my returns done right, I looked for a firm that was responsive, fairly priced, and has the experience to handle the task. Esther and the team at Flynn Accounting continue to exceed all of my expectations. There's no one in Colorado Springs I trust more when it comes to taxes for my friends and family. A+ service!"